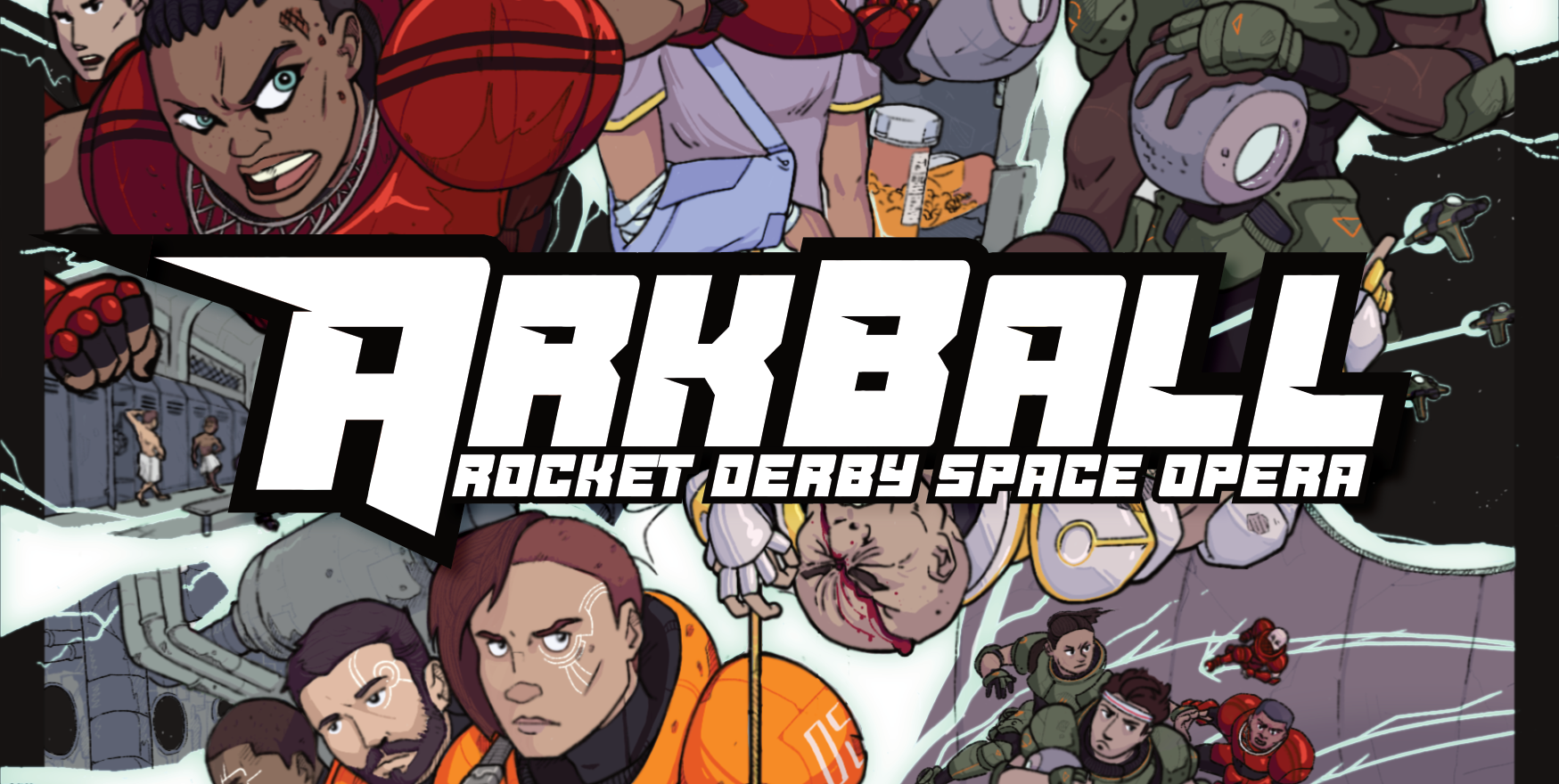 Arkball
The extreme sports space opera you never knew you needed is finally here.
The roar of the holocrowd is overpowering. The weight of the ball in your hands isn't nearly as heavy as the fate of your Colony on your shoulders. The smell of burnt duracrete fills the recycled air as your gravskates crackle to life.
Aboard the sacred arenaship Ersatz, the ceaseless conflicts of the six colony starships of the Ark fleet are tried and mediated by their anointed athletes in an ancient sport of champions: Arkball.
◉ ◉ ◉

In this complete Powered by the Apocalypse tabletop roleplaying system, you and your friends take the roles of the players of one of the six venerated arkball teams. With the help of a GM you'll tell the tragic, world-shaping stories of these pinnacle athletes.
Inside the fully-illustrated zine, you'll find everything you need to:
  ▶ Immerse in the world of the Ark fleet.
  ▶ Develop interesting and influential characters.
  ▶ Generate the stakes on which arkball matches are played.
  ▶ 24 pages, full color covers, B&W interior.
◉ ◉ ◉
Arkball is currently available for purchase as a physical and digital combo on Exalted Funeral. For physical editions, please head over there!

Purchase
In order to download this game you must purchase it at or above the minimum price of $4 USD. You will get access to the following files:
Arkball_Digital.pdf
10 MB
Arkball_Digital_AllSpreads.pdf
9 MB
Comments
Log in with itch.io to leave a comment.
Wow, what a bold concept! Is there a recommended minimum or maximum player count?
Probably 3-5 players and a GM for a traditionally structured game (i.e. some folks getting together in person/on a call and playing a several-hours session), but depending on your organizational structure I imagine you could manage a lot more! I'm pretty confident that the shot for shot structure of the game could handle asynchronous play over Discord or something, which would really open up the field in terms of player counts, though there isn't explicit inbuilt support for it in the text of the zine.
This game's really cool! I notice the PDF doesn't have a team or character sheet. Does one exist?
Thanks for your kind words! Arkball does not have official character sheets; it could be useful to record notes on a character's tensions, injuries, and basic information, but the system is broadly designed not to strictly require specific documents.